The very best chocolate brownies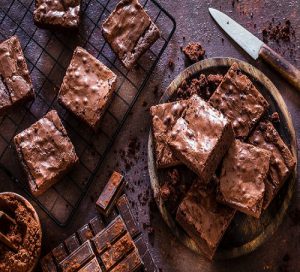 We have been through a heat wave where nothing seems to have been achieved.  Yesterday, I forced myself into action.  I decided to cook a long ago recipe I used to make for the children.  I think it was inspired by Blue Peter!  The special ingredient is Salted Peanuts – who would know?  This recipe makes enough for 10 people, and the brownies will keep in an air tight tin for about a week.  Who wants to keep cooking?  I am all for batch cooking and freezing.  Turn your ElectricKit roasting oven to 180 degrees.  Cook your bake on the second set of runners down from the top.  Place the cold plain shelf beneath your bake for the last 10-15 minutes.
Ingredients you will need to set these out before you cook
300g of soft butter and 375g of caster sugar
4 very large free range eggs with lovely yellow yolks
1 teaspoon of baking powder and 75g of cocoa powder
100g of plain flour (I used Organic) and ….
100g of salted peanuts
In addition, I also chopped in some dark 70% chocolate – about 100g.
What to do:
You will need a food mixer – tip the lot into the bowl and mix on a low setting, except for the nuts and chocolate .  These will need to be mixed in by hand before you cook the mixture.
Line a half sized roasting tin (I used stainless steel) with baking parchment. Add the chopped chocolate and peanuts to your mixture.
Spread your cake mixture evenly into your baking tin and smooth over the top.
Place on the second shelf down from the top of your roasting oven.
Cook for about 35 to 40 minutes, inserting the cold plain shelf for the last 10-15 minutes of your bake.  Leave to cool in the tin, then chop into pieces – around 28 – 30 pieces should be achieved.  Try to stop eating them if you can.
The trick is to get chocolate brownies that are soft in the middle and a little bit crunchy on top.