WESTBROOK COOKERS
13 AMP "STANDARD" AND "ELECTRIKIT" RENOVATED AGAS IN 2, 3 OR 4 OVEN MODELS
AVAILABLE IN A COMPLETED AGA OR AS A CONVERSION TO YOUR OWN AGA
We can supply a controllable renovated 13 amp electric Electrikit Aga range that can be used with a timer or even a "Wemo" switch to enable the cooker to be switched on and off remotely by mobile phone.
AVERAGE ANNUAL RUNNING COST (AT 2021 AVERAGE OF 0.17P PER KW/h)
IS A LOW £6 TO £9 PER WEEK !!
3 to 4 hours to install in your home – with deposit only!
When you purchase an Electrikit conversion, you are lowering your overall heating costs
and reducing your carbon footprint, immediately.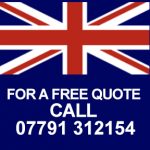 Want an indication of pricing for your conversion quickly?
REASONS TO BUY AN ELECTRIKIT CONTROLLABLE RENOVATED ELECTRIC AGA
Ability to install anywhere in the kitchen as no gas or oil flue requirement
Easy to use controls (able to switch oven ON & OFF remotely with Wemo APP and mobile phone)
Control comfort levels – warm in winter / cool in summer
Reduced requirement for servicing – saving money
Reduces running costs by up to 80%
Saving on your monthly bills immediately
Reduced "heat up" and improved "recovery" times
Holiday / second home owners are able to simply switch on and off
No gas / carbon monoxide leak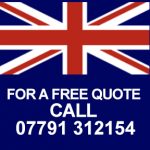 HOW IT WORKS
"…If you want you can run your renovated Aga or other range just as you used to BUT you have so much more flexibility available to you now…"
Cooking on it…
1. Independent cooking:
The hobs work independently of each other as does the top oven.
They can all be independently heat controlled meaning you can be frying on one hob, simmering on the other while roasting in the oven or just have on whatever you need when you want it.
"…So in summer you don't need to suffer oppressive heat from the ovens if all you want is to use the hob…"
2. Improved Heat up times
Heat up times are vastly improved –
Frying on either hob takes 10 minutes from a cold hob
Baking at 200 deg c takes the top oven 1 hour 35 minutes from cold to be ready "
… cooking is so much easier as you have more precision with temperatures…"
3. Control Panel
No longer do you need the mercury readout – you control each hob and the top oven from simple and easy to operate controls behind the bottom left hand door (2 Oven Aga)
The hobs have several settings ranging from simmering to boiling temperatures.
"…you can select a specific temperature in your top oven insuring baking etc is so much more accurate…"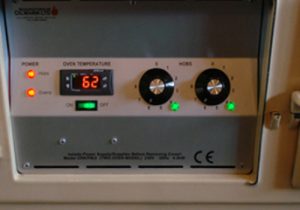 4. Timing your oven to come on
You can chose to operate the oven by timer, again to suit yourself, by switching the oven on 1 hour 35 min's before you need to e.g.
Getting up to a warm kitchen
Cooking the family meal in the evening
Cooking your porridge overnight to be ready for when you get up
5. Remote operation
You can switch the oven ON & OFF remotely using the WEMO switch and App on your mobile phone. Great if you are away from home and want the oven up to temperature for when you arrive back. Simply switch ON with the App when 2 hours away from home.
6. Money saving
As you are only switching on and using energy to cook when you need it you are not paying unnecessarily for the oven to be hot when you are asleep, at work etc
Detailed Engineering Information
1. General
…so how does it work…
…by converting the heat source to electric one is able to apply the energy where it is needed and do away with the large cast mass of the combustion chamber and flue ways.
One element powers the ovens (2 oven) and the hobs are independently controlled by their own thermostats and separate elements. Removing a large part of this unwanted mass of cast  radically improves the heat up times i.e. oven from cold takes 1hour 35 min's to reach 200 deg c. The hobs are now totally independent of the ovens and the reduced mass means you can be frying within 10 minutes from switching either hob on to suit.
The oven temperature is now able to be controlled by a system used on commercial ovens and kilns which is much more robust. You are now able to cook with pinpoint temperature control and as a result with much improved efficiency.
The temperature you set for the top oven is the temperature you get within a few degrees. This is a big improvement on the old operating system where differences have been recorded of up to 20% of the set temperature due to the slow recovery times of the conduction method and the drag / tolerance of the thermostat.
The LED readout shows the temperature of the top oven and the mercury is no longer needed for temperature monitoring.
For 4 oven range cookers an extra element with its own control is added.
2. Electricity Supply
2 x 13 amp 3 pin plugs are required. (2 separate 13 amps switched fused supplies)
Timers
You can chose to use 1 or 2 timers, one for the ovens and a second for the hobs if required. These are available on the open market from a large selection to suit your preferences. If you are going away unplug the timer on the oven and insert the WEMO switch if required. This can be purchased as an extra online or we can supply with the cooker.
COSTS
Each household will use their renovated Aga differently so it is hard to estimate costs of usage.
However, based on 2 working adults using a renovated 2 oven Aga over 12 months, using it efficiently (i.e. only running the Aga when required) the average daily running cost was found to be less than a £1 per day. The electric unit cost of 15p including vat was used in this calculation.*
The converted Aga was used as follows:
AUTUMN 3 months
Timed operation on times 06:00 – 09:00 / 16.00 – 21.30
WINTER 3 months
With oven on 24 hours a day
SPRING 3 months
Timed operation on times 06.00 – 09.00 / 16:00 – 21.30
SUMMER 3 months
switched on when needed for cooking
The hobs were used only when required, this gave a total annual usage of 2064KW used.
At a rate of 15p* per KW this equated to £310.
From cold to 365 deg c, 30 minutes
From cold to 200 deg c, 1 Hr 35 minutes
From cold to 235 deg c, 2 Hr 2 minutes
*the price of electricity does vary and the figures are based on average prices at the time of running the experiments.
HOW TO USE…… MY CONVERTED Aga
Tips on using converted Aga's particularly helping you to adapt from previous ways of "doing things".
What a standard Aga user is used to
What to do now with the electric Renovated Aga
Cook stews etc. in bottom oven
Use top oven for this now Select appropriate temperature (this will vary for everyone) e.g. 100 deg c etc. Cook for your normal time

For the first few occasions you will need to experiment to achieve similar results as before (exact temperatures can't be recommended as each Aga's bottom oven will have been different)

You are likely to want to use your bottom oven differently now- see below

Roasting in top oven
Still do this in top oven – just select appropriate temperature as per your recipe e.g. 200 deg c etc. If you want to quickly roast off (not fully cook) edges of roast potatoes just place baking dish on bottom of oven – need to watch this as edges will catch quickly
Baking in top oven
Still do this in top oven – just select desired temperature and wait for it to reach heat.  You should find this will cook your cakes to more or less the recipes timescale's
What can I use my
bottom oven for?
This is not adjusted by a temperature control but reacts to the heat of the top oven.  An example of temperatures you can expect is as follows

| | |
| --- | --- |
| TOP OVEN | BOTTOM OVEN |
| 160 deg c | 100 deg c |
| 200 deg c | 140 deg c |
| 230 deg c | 160 deg c |

So you can use it for:

Warming crockery (care could be very hot depending on temperature of top oven – we put them on for a couple of minutes)

Keeping food warm while finishing off cooking a meal

Grilling!

Once your e.g. lasagne has cooked in top oven place it in top rung of bottom oven to brown off after removing the baking tray.
To do this turn oven temperature up by e.g.20 deg or so and this will make the bottom oven act as a grill

Warm the kitchen
This will be down to personal preference – use the following to suit. Use top oven and set temperature to e.g. 160-235 deg c Run left and or right hob at low level e.g. 3-6 The Aga will heat up and can then be left on during winter either all the time or utilise timers on/off to save electricity and costs.