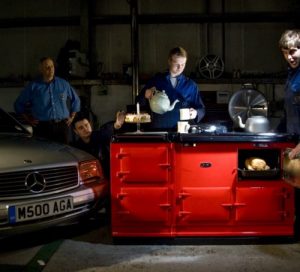 WELCOME
We are Electric Conversion Specialists.
Welcome to Westbrook Cookers, your partner in the next step to finding and installing your renovated Aga range cooker.
Having had over 20 years experience in gas fire and marble fireplace installations, coupled with hospitality and restaurant ownership in the early 1980's, we took the next step with our love of cooking and customer service to open our doors in 1993, as a renovated Aga range cooker specialist.
Today, with over 10,000 Renovated Aga range cookers successfully installed, the development of a cookware business and our popular Aga range cooker cooking blog, we are positioned as a trusted partner.
GOING FOR GREEN ENERGY 
Recently and because of the greater education and understanding of green energy worldwide, coupled with the global affect of soaring gas prices shaking things up, we have moved quickly and successfully, into the " Electric Conversions" market and are now offering this service, along with our recent accreditation for E Control Systems for heat storage range cookers.
Whether it be renovating your existing Aga range cooker, or providing a conversion to electric, we are here to guide each individual project, through every step carefully; from a friendly phone enquiry, through to site preparation support, pre-delivery checks, installation, commissioning and after sales service and support.
Let Westbrook Cookers be your hassle free partner in your  electric conversion or install that renovated dream stove you have always wanted.
Call us or email us now to find out more, or take a look around our website. Check out our recipes too here, get a feel for what you can achieve on an Aga.